The pumpkin seed butter grinding machine usually needs to be used in conjunction with a roasting machine, storage tank, mixing tank, etc., to complete the entire production of pumpkin seed butter.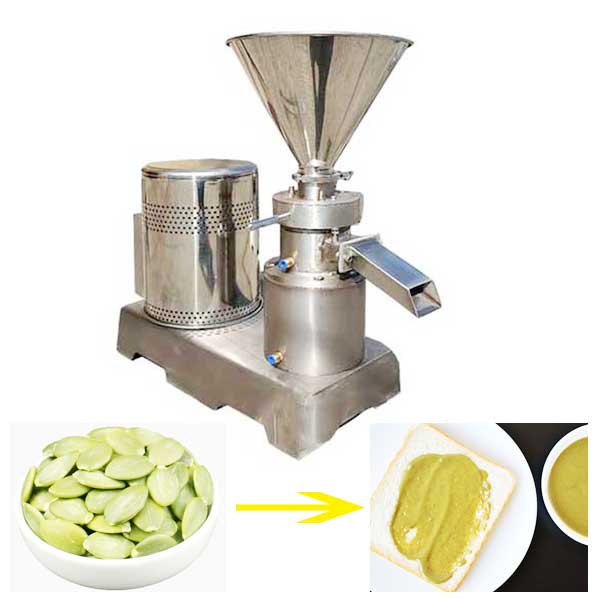 Introduction of Pumpkin Seed Butter Grinding Machine
The colloid mill is a centrifugal device with a simple structure, which is suitable for grinding materials with higher viscosity and larger particles.
There is a small adjustable gap between the stator and the rotor. When the flaxseed passes through this gap, it will be subjected to physical effects such as strong shearing, friction, high-frequency vibration, high-speed vortex, etc., thereby being effectively emulsified, dispersed, homogenized and crushed, and finally the finished flaxseed sauce is obtained. The fineness of the flaxseed butter is adjustable.
Features of Pumpkin Seed Butter Grinder Machine:
1.Multi-function, ultra-fine pulverization, that is, micronization, it also has the functions of mixing, stirring, dispersing and emulsification.
2.The minimum finished product can reach 50μm, and the particle size of the finished product can be controlled by adjusting the gap between the stator and rotor.
3.All parts in contact with materials are made of high-quality stainless steel, which is pollution-free and easy to clean.
4.The stator and rotor can be made of different materials, equipped with different structures and tooth shapes such as grinding and shearing, and users can choose according to their needs.
5.The stator and rotor have high machining accuracy and long service life.
6.Equipped with a cooling system (optional) to ensure the nature of the processed materials.
7.The pumpkin seed grinder machine has good corrosion resistance and abrasion resistance, and is strong and durable.
8.The vertical colloid mill has a variety of models,and the output ranges from 70kg/h to1t/h,free choice.