The whole set of Hemp Seeds Shelling Dehulling Machine can realize hemp seed dehulling, dehulling, seed kernel sorting, and the unseparated kernels can automatically return to the dehulling machine for dehulling again.The Hemp Seeds Shelling Dehulling Machine can be used to handle sunflower seeds, can also be used to treat hemp seeds, but when used to treat hemp seeds, need to change the inside sieve tablets of sunflower seeds shelling machine, the transformation of the sorting screening machine, change the fish scale sieve tablets into stacked sieve tablets. Water content of sunflower seeds and hemp seeds is better in 10-12%, seeds crushing rage is less than 10%.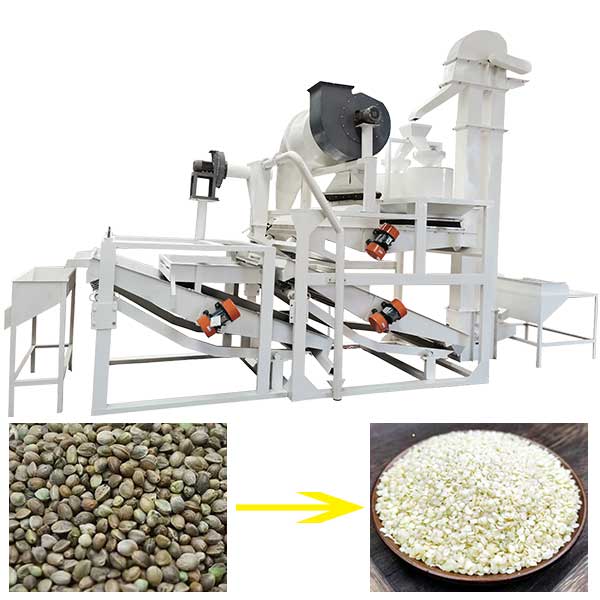 Advantages Of Hemp Seeds Shelling Dehulling Machine:
1.Through frequency conversion technology, the speed of the sheller is controlled, so that hemp seeds of different humidity and different varieties can be processed reasonably.
2.Application of cyclic dehulling, that is, the unhulled hemp seed will automatically enter the next dehulling cycle.
3.All operation buttons are installed on the control panel of an electric control cabinet for easy operation.
4.The mechanized connection between processes greatly improves production efficiency.
5.The hemp seed sorting machine increases the screening area, making the selection and separation more thorough.
6.High degree of automation and easy operation and maintenance.
7.Compact structure and small space occupation.upation.
We supply complete sets of equipment for industrial processing of hemp seeds, including hemp separating machine, sorting machine, cleaning equipment, etc., which can meet the requirements of users for large-scale mechanized continuous production. We can also supply

Small Hemp Seed Shelling Machine

,which is perfectly used for small business.