Introduction of Cocoa Powder Grinding Milling Machine:
The cocoa powder grinding machine can grind cocoa cake into cocoa powder. The cocoa powder mill machine has simple structure, firmness, stable operation and good grinding effect.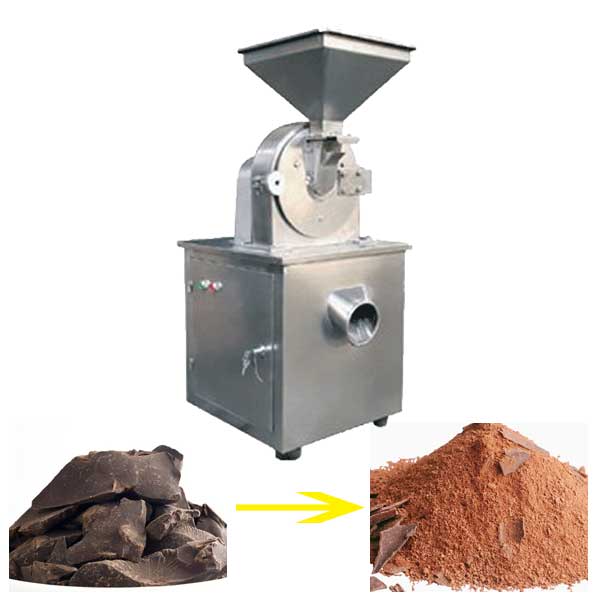 Cocoa Powder Grinding Milling Machine Structure and working principle:
The cocoa powder grinder machine consists of three parts: a frame, a crushing chamber, and a hopper. The main shaft is equipped with a movable toothed disk, a movable knife is installed on the movable toothed disk, a fixed toothed disk is installed in the crushing door, and a fixed toothed ring with steel teeth is installed on the fixed toothed disk. The movable knife and the fixed toothed ring on the movable toothed disk are arranged alternately. . When the main shaft is running at a high level, the movable gear sleeve rotates relative to each other, and the material is crushed under the combined effects of mutual impact, friction, shear, and material impact between the fixed teeth and the movable teeth.
Structure Features of Industrial Cocoa Powder Grinding Milling Machine:
1.Made of high-quality 304 stainless steel (can also be changed), long service life,supporting national standard motor.
2.The crushing ability is strong, the energy consumption is low, the relative fineness of the product is small, and the fineness of the general material powder is 20-120 mesh.
3.Fineness can be adjusted by changing the screen size.
4.The screen and hammer are made of high-quality materials,which is strong and durable.
5.We can add water cooling devices and dust removal devices according to user requirements.